Say Hello to GIfts – Facebook's New Mobile Revenue Stream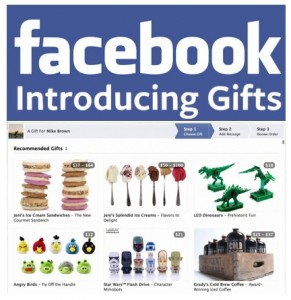 More than half of Facebook's active user base log on via mobile.  This is great for the firm, in that engagement from the pocket happens more often.  But mobile users are less engaged with ads, the firm's primary revenue source, so the ARPU (avg. revenue per user) of mobile users is lower than on the desktop.  The quest for mobile engagement drove Facebook to acquire the less-than-two-year-old Instagram, and its 13 employees, for $1 billion earlier this year (Instagram just passed Twitter in daily users).  Another smaller mobile acquisition got less notice, but its impact is now being felt. Karma, the social gifting app that was gobbled up by Zuck on the day of Facebook's IPO, now forms the heart of the new 'Facebook Gifts' platform.  And these are real, physical gifts, not the cheesy virtual gift icons of yore.
The gift platform is rolling out in select cities via web and in mobile (Android users get it first). Friends can give a gift from the newsfeed or from a friend's timeline. Givers pay right away or when a gift is accepted.  Recipients get a virtual card with animated 'open', see the gifts, click on whether they accept it, and if so, tell Facebook where the gift should be shipped.  Gifts can be private or public (no doubt Facebook hopes the latter will cascade a peer-induced gift-giving pile-ons tied to life events, birthdays, weddings, and more). Facebook collects payments via credit card using the same system leveraged to pay for Facebook games. Facebook will keep a percentage of sales, which it won't reveal, and which will vary by partner.
The gift selection is pretty broad, with over 100 retail partners at launch.  There are gift-cards galore (the Uber car service and Starbucks will be popular).  Food items include Magnolia cupcakes (for givers who want to get their Lazy Sunday on), and there are flowers, kids gifts, and the quirky (Star Wars character USB drives).
Facebook is deeply integrated with partners – equipping them with Facebook branded packaging, handling product photographs, writing gift ad copy, and tracking and reporting deliveries.
Commentary: New revenue streams are needed as the firm's stock continues to languish and new reports suggest that Google is on track to surpass Facebook in display advertising. Facebook Gifts won't accept PayPal, either (Facebook says its margins for real gifts are too thin to share the additional cut PayPal takes).  By grabbing your credit card, Facebook could position itself for broader commercial payments plays, perhaps even competing with Square, LevelUp, and others. Lots of interesting points to bring up for those discussing our Facebook Chapter.
Reed Hastings Interview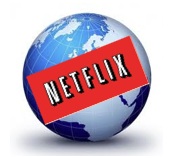 Lots of interesting nuggets are revealed in the WSJ's recent interview with Netflix CEO Reed Hastings (great facts for those using our Netflix Chapter).  In the most recent quarter, Netflix lost 850,000 DVD subscribers, but added 1.09 million users for streaming.  This growth is good, but DVD subscribers are more profitable than streamers, so Netflix needs to multiply streaming customer acquisition.  Netflix sees growth in global streaming.  It'll be in 51 countries by year-end and expects to be "almost everywhere other than China' in 10 years."
The firm's content budget is 3x Amazons, and they've got about triple the content, too.  So far Hastings says "no" to any revenue model other than unlimited flat-fee streaming.  "We want Netflix to be a very simple experience: one price, a clean proposition… That's why we don't have pay-per-view video and we don't have ad-supported video… It's just too complicated."  Hastings also sees Netflix as becoming the "entertainment service everyone wants", especially as new, exclusive content comes online, like the new Season 4 of the former Fox and now Netflix-revived comedy, Arrested Development.
Commentary: As of June, Netflix had 27.5 million streaming customers and 9.2 million DVD-by-mail subscribers.  Despite all of the griping about Netflix migration away from the DVD biz, the reality is that DVD-by-mail is mature and declining, and Wall Street was set to punish this stagnation (especially at the nosebleed three-digit PEs of Summer 2011. As of this writing, NFLX still has a rich PE of around 30, nearly double that of growth juggernaut Apple).  Migrating to a new business with different (and escalating) cost economics, with new and disparately motivated competitors is a delicate and challenging dance.  There's no "good" playbook here, despite the ham-handed "Qwikster Debacle."
While there may be competition in global markets, Netflix sees the barriers to entry as being high.  Content acquisition costs are heavy, especially for firms seeking local licenses of enough content to make a service attractive.  And new competitors will have to market hard.  All this seems to favor an early mover (first to build brand, first to build switching costs, quickest down the path to profitability that will lead to sustaining the business).  DVD-by-mail is a non-starter in most markets, since few nations have postal services as reliable and inexpensive as the USPS (yes, despite much public derision of US Mail, it has been an efficient partner vital to Netflix DVD-by-mail success and one that's impossible to profitably replace in most other nations).
Most Powerful Women in Business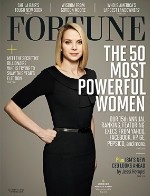 Looking for motivation to get half the undergrad population to study tech? Check out Fortune's most recent issue of the "Most Powerful Women in Business". It's loaded with women running tech firms.  IBM's Ginny Rometty tops the list, but Yahoo CEO, the ex-Googler Marissa Mayer, gets the cover (right).  With HP's Meg Whitman, Xerox's Ursula Burns, and Facebook's Sheryl Sandberg, tech has five of the top ten slots.  Finance?  Just one (Fidelity's Abby Johnson).
Who Wants to be a Billionaire?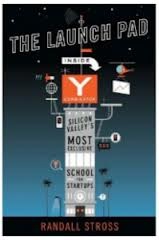 This post was written two days after the publication of "The Launchpad", but doubtless many of my students have already read the book about Y-Combinator, Silicon Valley's elite accelerator (the link above is an excerpt from Vanity Fair). For those not in the know, thousands of teams of mostly twenty-somethings apply at an about 3% acceptance rate for a slot in YC.  Firms get $11,000 and $3K per founder in exchange for 7% equity, but other guarantees mean most graduates of the program leave with six figures in backing. Past Y-Combinator graduates include Dropbox, Airbnb, OMGPOP, and WePay.  Y-Combinator is the brainchild of Paul Graham, the entrepreneur who built and sold Viaweb to Yahoo for $49 million.
Y-Combinator teams live in Mountain View free of the distractions of hipster San Francisco.  Says YC's founder Paul Graham, "They just sleep, eat, exercise, and program."  Demo day attracts well known Valley angels & VCs, and even some celebrity investors (Ashton Kutcher has a stake in Airbnb, among others).
Many teams pivot, and are encouraged to do so as ideas don't work out. When addressing startups, Graham says "In general, do not hide your disasters. We're not going to take the money back… Here, we don't fire you. The market fires you. If you're sucking, I'm not going to run along behind you, saying, 'You're sucking, you're sucking, come on, stop sucking.' " For an example of YC pivots and persistence consider OMGPOP, which started in the program as the dating site iminlikewithyou and struggled until Draw Something was a hit earlier this year.  Zynga bought OMGPOP for a reported $180 million, making it the second-most-successful exit to date for a Y.C.-backed company.  Breakout success in the world of startups is never certain, even with the resources and attention of the world's most elite program. "The most valuable of non-acquired YC graduates is worth more than the next 199 companies combined, the number two is worth more than the next 198", etc.  When considering 208 YC teams from 2005 through 2010, five were acquired for over $10 million each, and 20 more had been sold for less. The 21 most valuable Y.C. companies that had not exited totaled about $4.7 billion, but of that comes from two privately-held biggies – Dropbox and Airbnb.
"The Launchpad" is written by NY Times writer Randall Stross, who, in the dot-com days, wrote "Valley Days" about Benchmark Capital.  Paul Graham calls Stross's book "remarkably accurate." The WSJ published an interview with Stross, offering a few more insights.  YC, by its nature, is an accelerator that prizes hacking skills.  Most of the teams are heavy on techies.  Stross says founders are less interested in chasing billions than they are in driving their own projects.  It's autonomy that's the big motivator. The WSJ has also reviewed the book.
How Boston College is Quietly Building an Entrepreneurship Powerhouse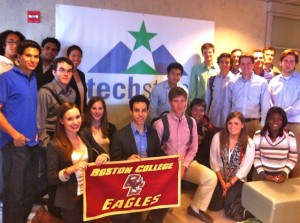 It's great to see BC's programs getting such press.  The Boston College Venture Competition has emerged as a rocket-ride to success, with past teams scoring slots in elite accelerators (TechStars, Y-Combinator, Summer@Highland, MassChallenge), winning at leading competitions (MIT, Yale), launching several successful businesses, and raising millions in capital.  The kindness and generosity of our alumni in integrating with our programs and mentoring and teaching our students has been key (see the recent "Silicon Valley Comes to the Heights", featuring BC alums Peter Bell and Dan Nova of Highland Capital, Bill Clerico of WePay, Pat Grady of Sequoia Capital, and James Reinhart of thredUP as an example).  Our award-winning TechTrek programs (Boston, NYC, and Seattle/Silicon Valley) have inspired scores to pursue tech and startup careers, while our IS curriculum not only led to a four-fold-in-four-years increase in students studying tech, it has also led to the publication of an award-winning open-source text used by leading programs (Carnegie Mellon, Maryland, Michigan, NYU).  Innovation recognized by the likes of Apple and Entrepreneur Magazine, Boston College continues to rise.  Thanks to all who continue to help us grow and help spread the word.  Keep at it!