WhatsApp and $19bn

Benedict Evans of a16z (who you really should follow on Twitter @BenedictEvans) writes a great piece on Facebook's WhatsApp purchase.  Highlight stats:
Facebook is paying 10% of the firm's value ($4B cash, $12B in FB stock at dealtime prices) and $3B in RSUs (restricted stock units vesting over four years after deal close).  That's vs. 1% of the firm paid for Instagram. WhatsApp  has 450 million users, 72% are active every day.  Users likely send more messages than the entire SMS system, and share half a billion photos a day (almost certainly more than Facebook users).  Facebook paid $35 per WhatsApp user.  That's a lot for a firm that runs no ads and makes most of its meager revenue via $1 appstore fees, but it's about what Google paid per user when acquiring YouTube (for reference, Facebook's current market cap values the firm at about $140 per monthly active user, or MAU, but Facebook is, of course, wildly profitable).
Evans' strategy take is insightful. Spend big before you're disruptied: Facebook's willingness to pay means that Facebook is determined that it is the next Facebook – it won't be trumped by fast-growing mobile services that may siphon-away users.  Winner-take-all on mobile isn't the same as on the desktop.  Facebook could add a feature (e.g. photos) and even though it was late to the party, it could win overnight by folding a service into its own.  On mobile there's not a lot of UI space for feature creep.  Instant access to address books & photos mean that building a network may be easier, while photos-as-switching costs may be less powerful.  Push notifications help fuel virality.  Evans points out that mobile app discovery is "a mess", "pre-Page Rank" in evolution.  Adopted apps get a spot on the home-screen (one tap away, if you're "very good", and lucky).
And the WhatsApp story is great.  Ukrainian immigrant Jan Koum, who was turned down when applying for a job at Facebook signed the deal on the door of the former welfare office where he signed up for food stamps.
The Real Problem with the Comcast Merger

The avg. cable bill has ballooned from around $10 a month to over $86.  To be fair, today's cable includes far more channels, and these can be costly (ESPN alone charges about $5/subscriber).  Many would also argue today's content quality is much higher (Colbert to Breaking Bad). Plus, broadband is only getting faster. But is your cable bill held artificially high by exclusive rights that kill competition? Columbia Prof. Tim Wu claims the playing field is tilted. Most cable firms enjoy municipally sanctioned monopolies (BC's hometown of Newton, MA is a rarity where three firms, Comcast, Verizon, and RCN, compete for home entry). Exclusive assets also kill competition; in Philly, ownership of the Flyers & 76ers make Comcast the only game in town for most, quashing satellite rivals in a model that's been repeated in regional sports markets throughout the country.  Controllers of the pipe can also demand fees for access, as Comcast has done with Netflix. Bigger buyers (e.g. a merged Comcast & Time Warner) have even bigger bargaining power with programmers, and hardball negotiations have lead to programming blackouts (like Time Warner v. CBS).
In a surlier piece in The Verge (if you've got cable, you can handle the salty language in the title), Nilay Patel, raises more issues. The Supreme Court recently sided with providers against the FCC, dealing a body blow to Net Neutrality.  Think platform innovation isn't at risk? AT&T blocked Apple FaceTime & Google Hangouts, while Verizon & AT&T have blocked Google Wallet. Patel says we're in a "perfect storm of corporate greed and broken government, [and] the internet has gone from vibrant center of the new economy to burgeoning tool of economic control." The Patel article includes the image (above) of the same Motorola set-top box from 2004 & 2014 vs. smart phone evolution during the same period, which isn't really fair. The set-top box has changed in capacity, speed, and function, and ads for the novel Comcast X1 sysetm were tough to avoid during the Olympics (which ran on networks owned by which firm? Oh yeah…).
There's an important side note. If "paid-peering" is the norm, big players like Netflix are likely the only ones with the scale to be able to afford to pay the broadband gatekeepers.  If upstarts need to raise capital for "pay to play" on an infrastructure based on government-funded research (that's what the Net is, after all), could this smother the plans of would-be entrepreneurs? Or do profits generated by network operators provide critical resources to make our bandwidth faster and more reliable year-after-year, catalyzing the next-gen Zuckerbergs?
Patel says other nations are making the US look like a monopolistic broadband backwater. "In the UK, where incumbent provider BT is required to allow competitors to use its wired broadband network, home internet service prices are as low as £2.50 a month, or just over $4. In South Korea, where wireless giants SK Telecom and LG Uplus are locked in a fierce technology battle, customers have access to the fastest mobile networks in the world — up to 300Mbps, compared to a theoretical max of 80Mbps on Verizon that's actually more like 15 or 20mbps in the real world." As for wireless, in "Germany… T-Mobile customers pay just $1.18 per Mbps of speed. In the US… mostly incompatible wireless networks lock customers in with expensive handsets they can't take elsewhere, allowing AT&T and Verizon to charge around $4 per Mbps each and Sprint to clock in at an insane $7.50." Patel boils the problem down to "four simple ideas: the internet is a utility, there is zero meaningful competition to provide that utility to Americans, all internet providers should be treated equally, and the FCC is doing a miserably ineffective job."
Exercise for classroom debate: On one hand, doesn't a public firm that builds & maintains infrastructure at a cost of billions of dollars have the right to control its investment? On the other, can we rely on the free-market to provide competitive service if entrenched players have scale & municipally-granted distribution that's essentially insurmountable by rivals?  OnDemand "Game of Thrones" is clearly a luxury good. But when broadband delivers employment access, healthcare information, and Khan Academy, all things with positive social implications, is broadband-for-all as vital as electricity-for-all?
What is Bitcoin?

CNN offers an infographic for a quick grok of the crypto-currency.  The appeal for vendors is in the potential to eliminate transaction fees from electronic payments (credit cards regularly take 2% or more, a profit-killer for thin-margined business).  Consumers seeking anonymity like it too (no banks to track you). That leads to the currency's dodgy rep, with bicoin being used on sites like the now-busted illegal drug mart, Silk Road.  Things were starting to look up for bitcoin, with mainstream firms including Overstock and Zynga accepting the currency. But the heist from exchange Mt. Gox resulted in losses of $473 million in value market prices. The exchange at one point handled more than 80% of bitcoin transactions, but it's now head to bankruptcy.
The reality is that bitcoin currently offers little to consumers who aren't interested in anonymity. Right now it's easy to set up a bitcoin wallet, but its hard to get cash into it. Boston has one of the first bitcoin ATMs in South Station (VIDEO), but even after putting money in a wallet, consumer transactions aren't any faster than cash or credit. Some early adopters see a bump from being first at the dance. For example, the owner of the Cambridge jazz-sushi restaurant Thelonius Monkfish claims patrons have come from miles around for the novelty of buying a meal for bitcoin.
VCs and angels have invested more than $100 million in bitcoin companies and $200 million more in firms that make hardware for 'bitcoin mining'. While ¾ of backed companies are outside the Bay-area, Silicon Valley has attracted the majority of investment.  Boston does have one of the more noteworthy new efforts. Jeremy Allair (who sold his eponymously named web tools firmto Macromedia, then went on to found the now-publicly-traded Brightcove) has been building the team for his new bitcoin startup, Circle.com. Also from Boston, MIT students came up with a hackathon winning effort known as tidbit to allow websites to let their visitors help them mine bitcoins as an alternative to serving up ads. NJ didn't like it, they subpoenaed the students.  The MIT administration announced support the student innovators.  In just a few months, the number of firms accepting bitcoin has gone from 1,000 to 3,000 (for more stats see the 91-slide "State of Bitcoin 2014" report.
❖ ❖ ❖ ❖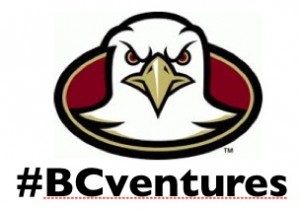 Time to celebrate more milestones by the BC Startup Community.
WePay, started by BCVC co-founder and TechTrek alum Bill Clerico, along with his BC Presidential Scholar classmate Rich Aberman, has announced a $15 million Series C round.  WePay has been on a rocket-ride, seeing the volume of crowdfunding payments from its API grow roughly than 650% in the past year.  The API business is so successful that WePay is dropping its consumer product to focus exclusively on providing cut-and-paste easy payment tools for online marketplaces (where the firm's Veda social anti-fraud product ads major value).  WePay now handles over half a billion dollars a year in online payment volume.
Drizly, founded by three BC alums, has raised $2.25 million to roll-out it's alcohol app delivery network nationwide.  Drizly has created a rabidly loyal fan base in Boston, and has New York on tap.
My former BC MBA student Ken Deckinger buit and sold HurrayDate to JDate.  Ken is back with JessMeetKen, a new take on online data (where your date is recommended by others).  This is how Deckinger's wife (Jess) met him, and that turned out pretty well. Even better, Deckinger's new firm is back in Boston.
TechTrek Boston has already had studentes at Rethink Robitcs (with CEO and robotics legend Rodney Brooks), the MIT Media Lab (with BC alum Vivian Diep), and Google Cambridge (with BC MBA alum Misha Denisenko).  Look for visits every Friday for the rest of the spring, including: TechStars, (BC-founded) Wymsee, (BC-founded) Jebbit, SapientNitro, and HubSpot.
TechTrek NYC applications are due by Friday, March 14th.  We'll be traveling to Tumblr, Twitter, Google, RentTheRunway, and Etsy.  For details see Cate Jones in the IS Dept. office, Fulton 460.
Want to see the BCVC finals? Drop by the Fulton Honors Library on April 1st (no foolin').  For a complete list of upcoming BCVC events see http://bcvc.org
For those in the Bay area, BC TechCouncil will be sponsoring a student/alumni meetup on Wednesday, March 5th at the Garden Court Hotel in Palo Alto.  Meet the 2014 Undergrad TechTrek class, mingle with alums (there are usually about 100 in the crowd), and hear from a killer panel of BC alums in the startup and VC community.